COPD ECHO
Join the COPD ECHO Network to share and learn best-practice COPD management and how to translate and implement COPD guidelines into country practice.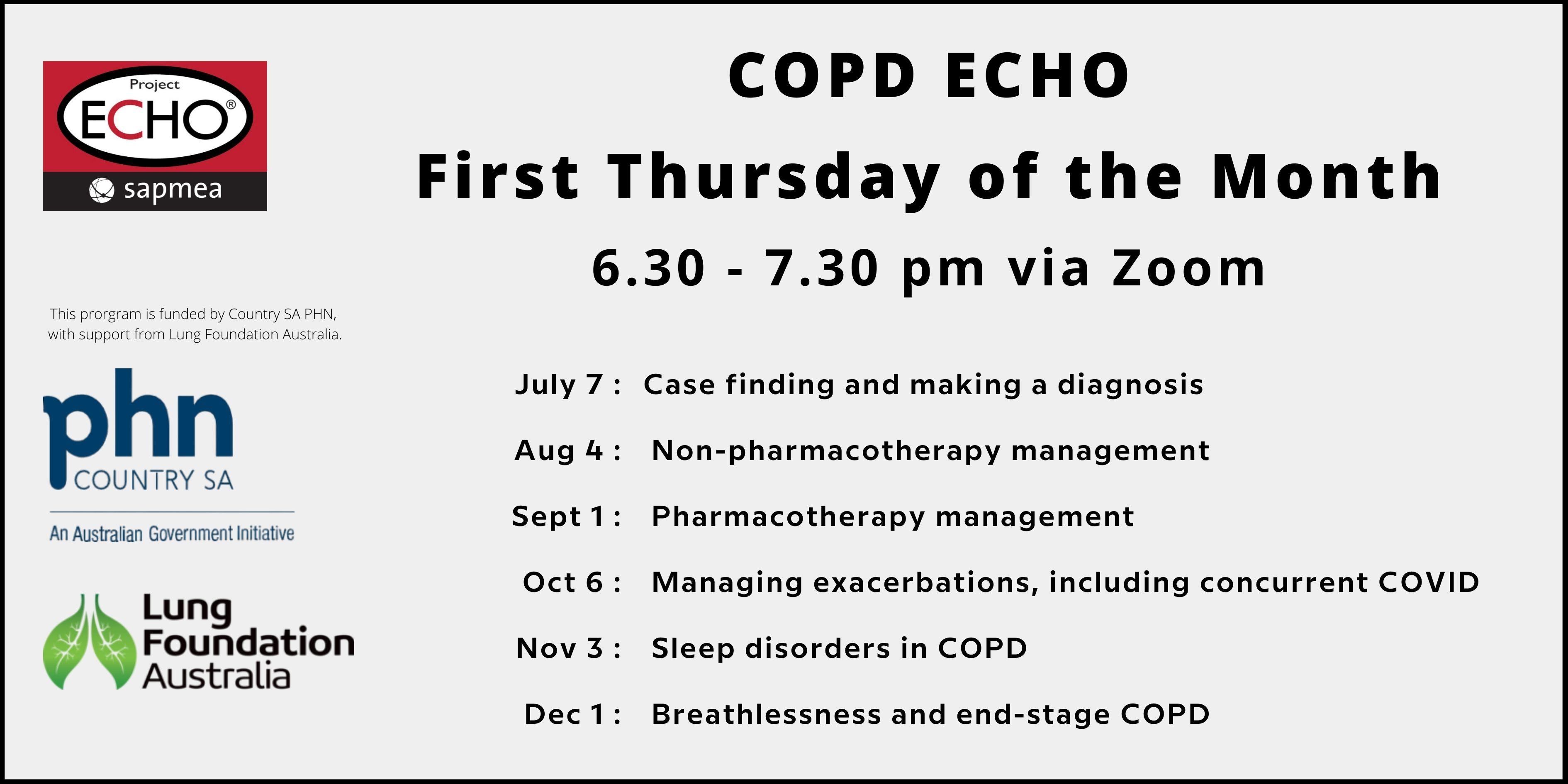 Enrol for the COPD ECHO Network
This program will have a country focus and enrolment will be restricted to country heath professionals only.
Whilst we endeavour to enrol all applicants, priority will be given to those those with a patient case to present. We apologise in advance if we cannot accommodate you in the program.

If you are from outside of South Australia or are interested in joining as session as an observer, please email echo@sapmea.asn.au .
Enrol now
Submit your cases
We welcome all cases, whether they involve common clinical scenarios related to diagnosis and care, or those that involve complex or challenging presentations and patient management scenarios.
The benefits of presenting a case during an ECHO session include receiving advice and feedback on current strategies, gaining perspectives from a multi-disciplinary professional support network, and arming you with the knowledge and confidence to improve patient care.
Please note that ECHO sessions are not secondary consultations and do not replace specialist referral, where needed.
Submit a case
Meet the COPD ECHO panel
Dr Alison Lydeamore - GP Facilitator
Investigator Clinic, Port Lincoln
Dr Kerry Hancock
Respiratory GP, Chandlers Hill Surgery
Dr Andrew Scroop
Respiratory Physician, Respiratory Consultants

Glenda Woodward

Respiratory Nurse, Country and Outback Health
Prof Marie Williams & Prof Kylie Johnston
Respiratory Physiotherapists, Uni SA
Joy Gailer
Clinical Pharmacist, DATIS

CPD eligibility 
RACGP members who attend at least 4 sessions and participate in both the initiation and review meeting will be eligible to receive 40 Cat 1 points for a Reviewing Performance activity under the Peer-Group Learning model. RACGP members who attend fewer than 4 sessions, will receive an attendance certificate to self-claim Cat 2 points.
ACRRM members will be eligible to receive Case Discussion Credits under the Performance Review Category.
Points and certificates will be sent/allocated at the end of the network ECHO series.
Learning outcomes
At the end of the COPD ECHO Network series, participants will be able to:

1. Apply an evidence-based approach to the diagnosis, management and secondary prevention of COPD.
2. Apply a multidisciplinary approach to the management of COPD.
3. Demonstrate knowledge of the referral pathways and services for COPD care in regional and rural locations.


This program is funded by Country SA PHN, with support from Lung Foundation Australia