Emergency Medicine ECHO
Extension for Community Healthcare Outcomes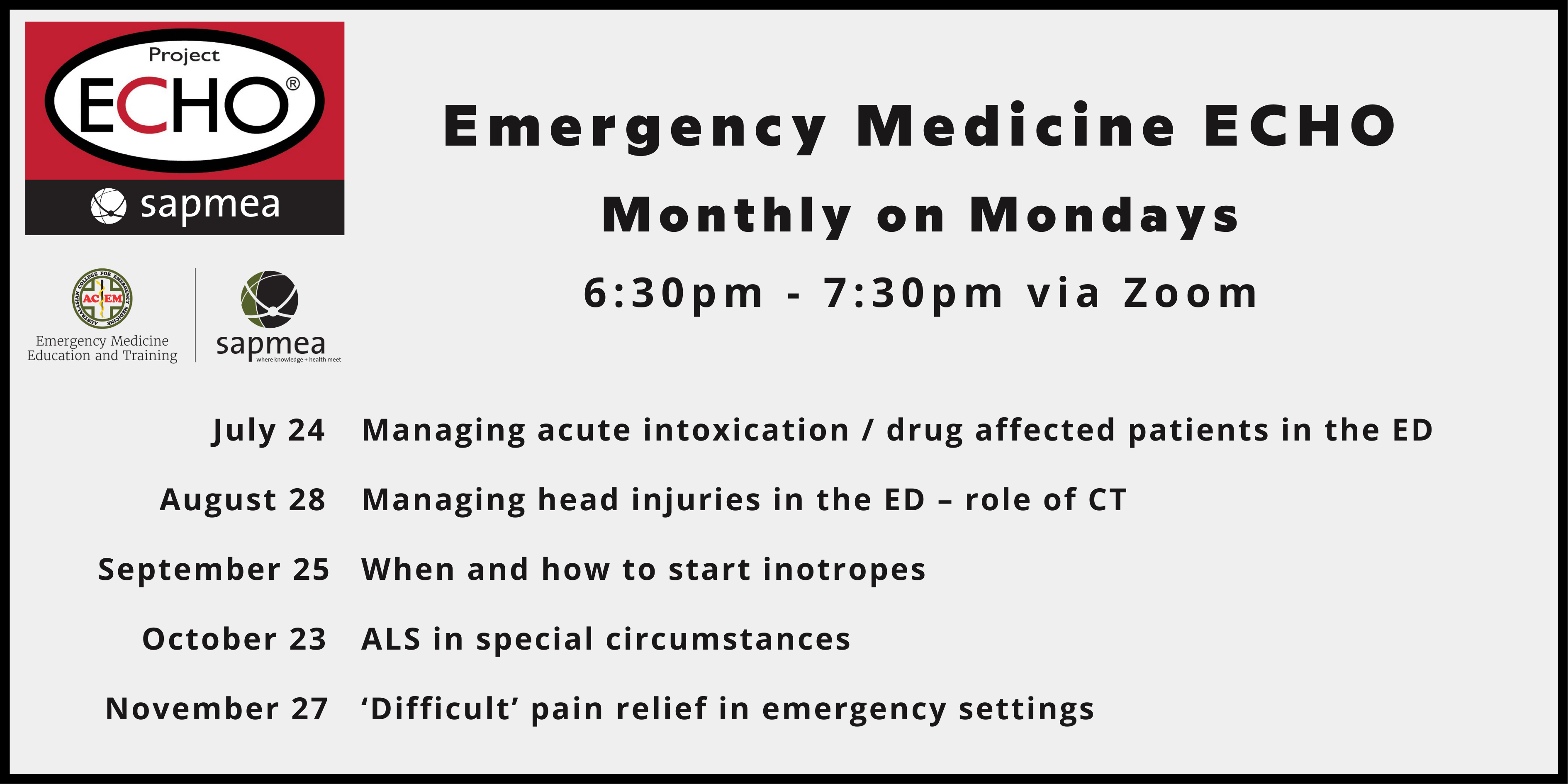 Enrol for the Emergency Medicine ECHO
ECHO aims to create a community of practice for shared learning and professional support.
Online sessions provide an opportunity for participants to learn best-practice emergency medicine care from our panel of experts and contribute to debriefing case discussions.

We welcome all healthcare professionals from metropolitan, rural and regional SA to join the program. The program topics are specifically relevant to General Practitioners, Medical Professionals, Nursing staff, Paramedics and Allied Health Professionals working within an Emergency Care Setting.

If you are from outside of South Australia or are interested in joining as session as an observer, please email echo@sapmea.asn.au 

Enrol now
Submit your cases
We welcome all cases, whether they involve common clinical scenarios related to diagnosis and care, or those that involve complex or challenging presentations and patient management scenarios.
Individuals and teams are invited to submit cases for clinical debriefing to promote learning and reflection, and identify opportunities for improvements in workflows and processes to improve subsequent patient experiences and minimise the risk of future adverse outcomes.
Please note that ECHO sessions are not secondary consultations and do not replace specialist referral, where needed.
submit a case
Meet the Emergency Medicine ECHO expert panel
Dr Alison Lydeamore, GP & Director of Clinical Training EFNLHN
Assoc Prof Robert Dunn, Emergency Medicine Consultant & Director of Clinical and Academic Emergency Medicine, RAH
Neralie Wearn, Retrieval Nurse, MedSTAR
David Tingey, Critical Care Retrieval Paramedic, MedSTAR
Plus there will be a host of guest panellists joining through the program!
Meeting Resources
Meeting # 1: Monday, 24 July
Meeting # 2: Monday, 28 August
Meeting # 3: Monday, 25 September
Meeting # 4: Monday, 23 October
Meeting # 5: Monday, 27 November


CPD eligibility 

GP participants will receive 1 CPD hour under the Reviewing Performance category with RACGP/ACRRM for each meeting attended.

GPs presenting a case for discussion, will receive 1 CPD hour under the Measuring Outcomes category (to be self-claimed).

The Statement of Attendance and CPD hours will be provided at the end of the ECHO series.



Learning outcomes
At the end of the Emergency Medicine ECHO series, participants will be able to:

Prioritise the immediate assessment priorities for the patient presenting to ED with different signs or symptoms.
Summarise the management of the patient presenting to ED with different signs or symptoms.
Describe the team roles in the emergency management of the patient presenting to ED.


Learn more about how ECHO sessions work here.
Find other ECHO networks here.
For questions and enquiries, please contact the ECHO Coordinator at ECHO@sapmea.asn.au.
This program is funding under the SAPMEA EMET Program. SAPMEA has received Commonwealth Department of Health funding and ACEM support for participation in the EMET program under the Specialist Training Program.