Luminal Gastroenterology ECHO Network
Join the Luminal Gastroenterology ECHO Network to share and learn evidence-based, best-practice management with a multi-disciplinary team.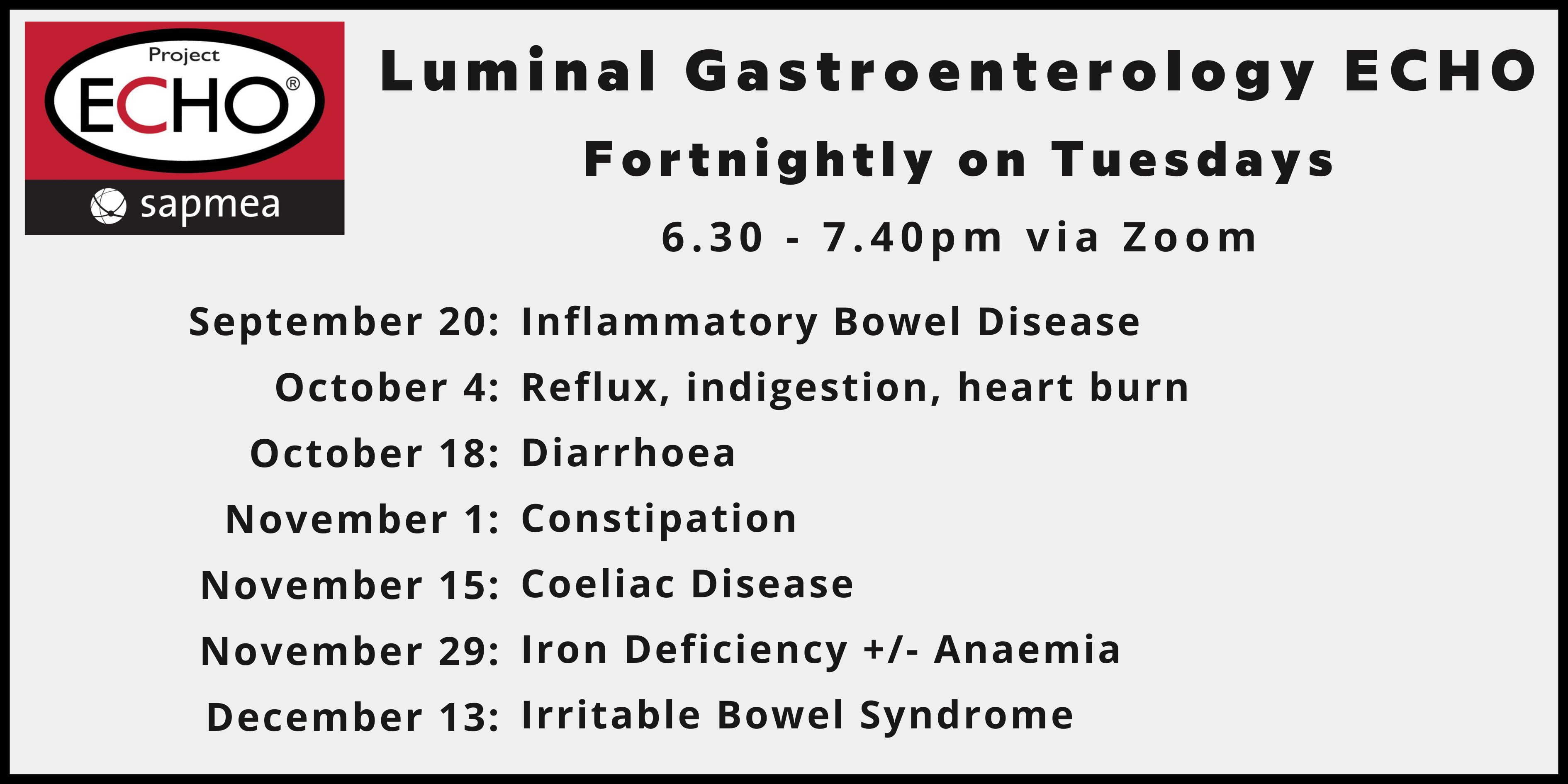 This ECHO program will focus on luminal gastroenterological disorders such as those that affect the oesophagus, stomach, duodenum, small and large intestine, and will exclude liver disorders.
It aims to support the rollout of SA Health's Clinical Prioritisation Criteria (CPCs). The CPCs are clinical decision-making support tools that assist in ensuring patients referred to our tertiary hospitals are clinically categorised and accepted based on standardised state-wide clinical referral criteria.

Enrol for the Luminal Gastroenterology ECHO Network
Complete the  enrolment form to join the Luminal Gastroenterology ECHO Network.
ECHO aims to create a community of practice for shared learning and professional support.

Whilst we endeavour to enrol all applicants, priority will be given to those located in rural and regional South Australia and those with a patient case to present. We apologise in advance if we cannot accommodate you in the program.

If you are from outside of South Australia or are interested in joining as session as an observer, please email echo@sapmea.asn.au .
Enrol now
Submit your cases
We welcome all cases, whether they involve common clinical scenarios related to diagnosis and care, or those that involve complex or challenging presentations and patient management scenarios.
The benefits of presenting a case during an ECHO session include receiving advice and feedback on current strategies, gaining perspectives from a multi-disciplinary professional support network, and arming you with the knowledge and confidence to improve patient care.
Please note that ECHO sessions are not secondary consultations and do not replace specialist referral, where needed.
submit a case
Meet the Luminal Gastroenterology ECHO Network panel
GP Facilitator:
Dr Adelaide Boylan - GP at ProHealth Norwood
Panellists:
Gastroenterologists
A/ Prof Robert Bryant - TQEH / University of Adelaide
Dr Charles Cock - FMC
Dr Tsai - Wing Ow - RAH/ FMC
Dr An Phan- RAH
Dr Damian Harding - Lyell McEwin Hospital/ FMC
Dr Hamish Philpott - Lyell McEwin Hospital
General Surgeon
Clinical Pharmacist
Dietitian
Alice Day - TQEH / Samantha Plush - RAH
Session Resources

SESSION 1: 20/09/2022
SESSION 2: 04/10/22
SESSION 3: 18/10/22
SESSION 4: 01/11/22
SESSION 5: 15/11/22
SESSION 6: 29/11/22
SA Luminal Gastroenterology Referral Information
SA Luminal Gastroenterology Services:

HealthPathways SA Online access to evidence-based clinical pathways and local referral information. Access is free once you have registered to set up a login. (Some Luminal Gastroenterology Pathways have not yet adapted for SA, however referral information is available):



CPD eligibility 
RACGP members who attend at least 4 sessions and participate in both the initiation and review meeting will be eligible to receive 40 points (Cat 1) for a Reviewing Performance activity under the Peer-Group Learning model. RACGP members who attend fewer than 4 sessions, will receive an attendance certificate to self-claim Cat 2 points.
ACRRM members will be eligible to receive Case Discussion Credits under the Performance Review Category.
Points and certificates will be sent/allocated at the end of the network ECHO series.
Learning outcomes
At the end of the Luminal Gastroenterology ECHO Network series, participants will be able to:

1. Assess and diagnose patients presenting with various gastroenterological disorders or symptoms.
2. Apply a multidisciplinary approach to the management of patients with various gastroenterological disorders or symptoms.
3. Demonstrate knowledge of the local gastroenterology referral criteria and pathways.
Learn more about how ECHO sessions work here.
Find other ECHO networks here.
For questions and enquiries, please contact the ECHO Coordinator at ECHO@sapmea.asn.au.
This project is supported with funding from Wellbeing SA

Contributing partners: