Chronic Pain ECHO
Join the Chronic Pain ECHO Network to share and learn evidence-based, best-practice pain management with a multi-disciplinary team.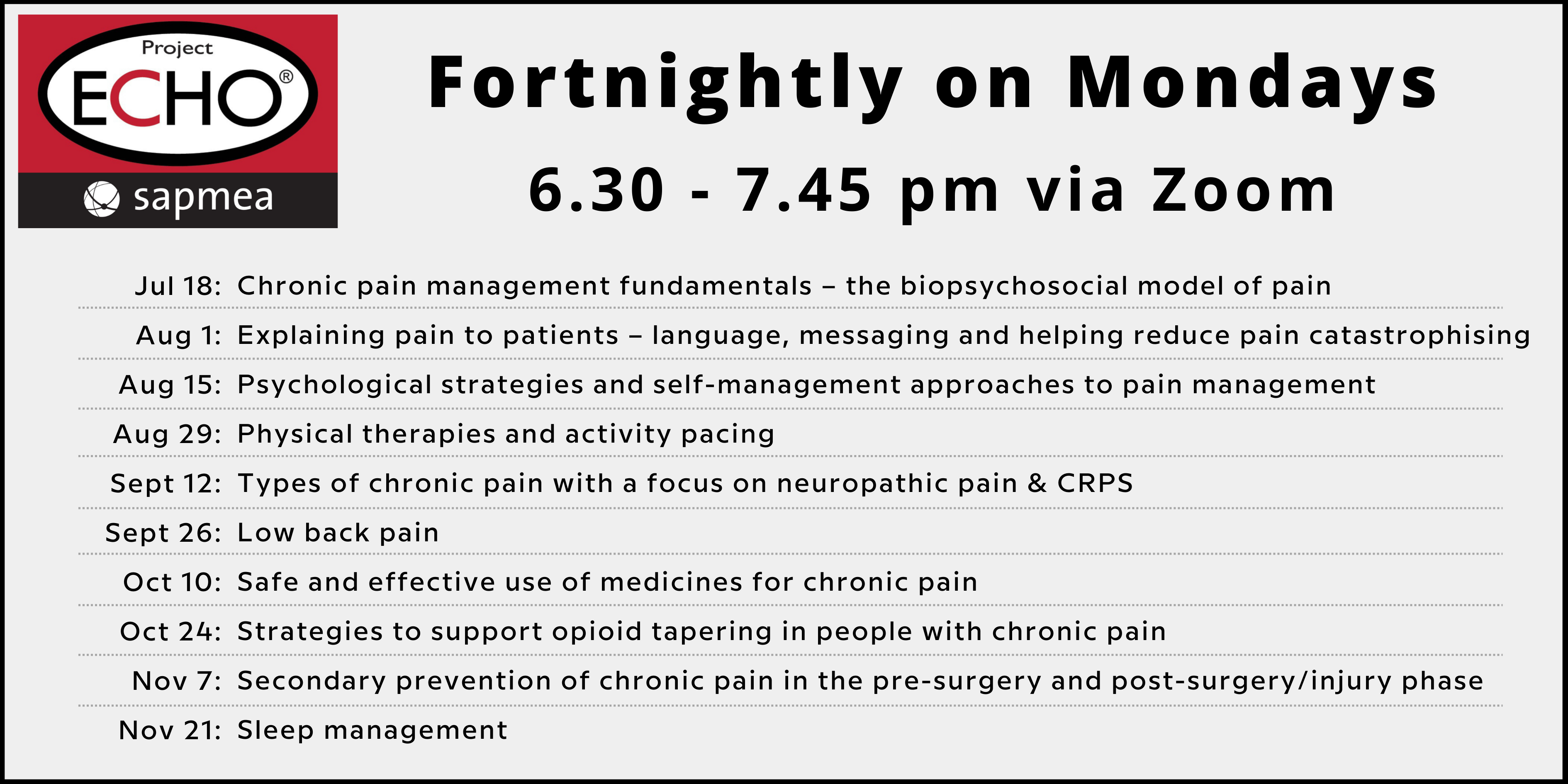 The Menzies Centre for Health Policy and Economics (MCHPE) at the University of Sydney is providing input into the implementation and curriculum development for this Chronic Pain ECHO Network. MCHPE is also undertaking an evaluation study of this series to understand the value of the program for health professionals and how to improve the program. You will be asked to complete a brief satisfaction survey after each ECHO session and a brief survey at the end of the series. Case presenters will also be asked to complete a brief survey about presenting a case. Information collected as part of the evaluation study will be published in a de-identified form. The names of participants will not be identified. Your involvement in the evaluation study is voluntary. You will receive an information sheet about the evaluation if you are selected to participate in the Chronic Pain ECHO Network. You can opt to participate in the Chronic Pain ECHO Network and not participate in the evaluation.

Enrol for the Chronic Pain ECHO Network
This program has reached maximum capacity enrolment. Please join the waitlist and we will inform you if a place becomes available.

Whilst we endeavour to enrol all applicants, priority will be given to those located in rural and regional South Australia and those with a patient case to present. We apologise in advance if we cannot accommodate you in the program.

If you are from outside of South Australia or are interested in joining as session as an observer, please email echo@sapmea.asn.au .
Join the waitlist
Submit your cases
We welcome all cases, whether they involve common clinical scenarios related to diagnosis and care, or those that involve complex or challenging presentations and patient management scenarios.
The benefits of presenting a case during an ECHO session include receiving advice and feedback on current strategies, gaining perspectives from a multi-disciplinary professional support network, and arming you with the knowledge and confidence to improve patient care.
Please note that ECHO sessions are not secondary consultations and do not replace specialist referral, where needed.
Submit a case
Meet the Chronic Pain ECHO panel
Dr Clare Fairweather - GP Facilitator
ProHealthCare & Pelvic Pain Network

Dr Tim Semple

Pain Specialist, CALHN
Dr Tuan Vo

Pain Specialist & Occupational Physician, CALHN & PainMedSA
Dr Derek Yull

GP and Spinal Clinician, International Spine Centre, HealthSense Medical Centre

Dr Carolyn Berryman

Pain Physiotherapist, WCHN & UniSA
Mark Cox

Clinical Psychologist, PainMedSA, Integrate Psychology
Annie Hopkins
Clinical Psychologist, CALHN, myPhysioSA
CPD eligibility 
RACGP members who attend at least 4 sessions and participate in both the initiation and review meeting will be eligible to receive 40 points (Cat 1) for a Reviewing Performance activity under the Peer-Group Learning model. RACGP members who attend fewer than 4 sessions, will receive an attendance certificate to self-claim Cat 2 points.
ACRRM members will be eligible to receive Case Discussion Credits under the Performance Review Category.
Points and certificates will be sent/allocated at the end of the network ECHO series.
Learning outcomes
At the end of the Chronic Pain ECHO Network series, participants will be able to:

1. Apply an evidence-based approach to the diagnosis, management and secondary prevention of chronic pain.
2. Apply a multidisciplinary approach to the management of chronic pain.
3. Demonstrate knowledge of the biopsychosocial approach to pain care.


This program is supported with funding from RTWSA and CSAPHN