Advanced Dementia ECHO
Join the Advanced Dementia ECHO Network to share and learn evidence-based, best-practice management with a multi-disciplinary team.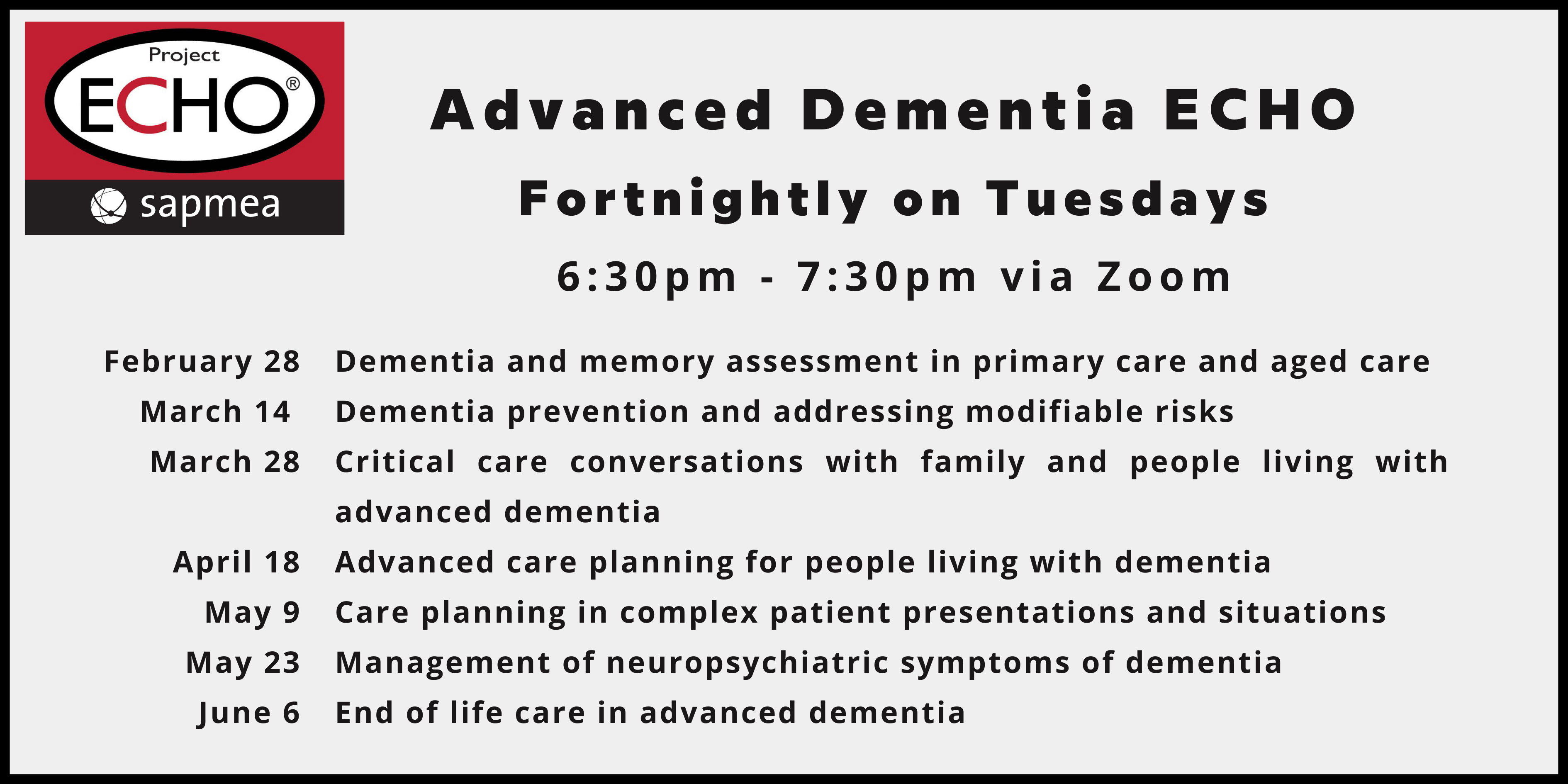 Enrol for the Advanced Dementia ECHO
Complete the  enrolment form to register your interest to join the Advanced Dementia ECHO.

ECHO aims to create a community of practice for shared learning and professional support.

We welcome all healthcare professionals from Metropolitan & Rural/ Regional SA to join the program.

If you are from outside of South Australia or are interested in joining as session as an observer, please email echo@sapmea.asn.au 

Enrol now
Submit your cases
We welcome all cases, whether they involve common clinical scenarios related to diagnosis and care, or those that involve complex or challenging presentations and patient management scenarios.
The benefits of presenting a case during an ECHO session include receiving advice and feedback on current strategies, gaining perspectives from a multi-disciplinary professional support network, and arming you with the knowledge and confidence to improve patient care.
Please note that ECHO sessions are not secondary consultations and do not replace specialist referral, where needed.
submit a case
Meet the Advanced Dementia ECHO expert panel
GP Facilitator:
Dr Adelaide Boylan, Pro-Health Norwood
GP with interest in Dementia:

Dr Stephanie Daly - Sensus Cognition
Nurse Consultant:
Luke Shepperd - Specialist Dementia Care Unit
Geriatrician & Palliative Care Consultant:
Dr Chloe Furst - co-HOU, Department of Geriatrics and Rehabilitation Medicine, RAH
Dr Teena Silakong - Northern Adelaide Palliative Care Service
A/Prof Timothy To - HOU, Southern Adelaide Palliative Service


Session Resources
SESSION 1 (Tuesday 28 February)
SESSION 2 (Tuesday 14 March)
Dementia resources:

HealthPathways SA: Online access to evidence-based clinical pathways and local referral information.
Access to HealthPathways SA is free once you have registered to set up a login.
CPD eligibility 

Participants will receive 1 CPD hour under the Reviewing Performance category with RACGP/ACRRM for each session attended.

•GPs presenting a case for discussion, will receive 1 CPD hour under the Measuring Outcomes category (to be self-claimed)

•The Statement of Attendance and CPD hours will be provided at the end of the ECHO series.

Learning outcomes
At the end of the Dementia ECHO series, participants will be able to:

1. Assess and diagnose patients presenting to General Practice with signs and symptoms of advanced dementia.
2. Apply a multidisciplinary approach to the management of advanced dementia patients with various disorders or symptoms.
3. Demonstrate knowledge of the local palliative care and dementia services referral pathways.
Learn more about how ECHO sessions work here.
Find other ECHO networks here.
For questions and enquiries, please contact the ECHO Coordinator at ECHO@sapmea.asn.au.
This project is made possible with funding from the South Australian Government under the Palliative Care 2022 Grants Program.